Project Update #8 – 29th February 2016
Get on the Map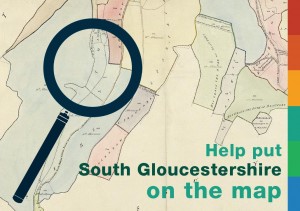 With our first area of the West of England now mapped on Know Your Place, we are encouraging everyone to take some time to explore its maps and features. Have you visited yet?
We are especially keen to encourage residents or researchers of South Gloucestershire's rich history to participate in the project by adding your own heritage information to the Community layer. It is simple and easy to do, and you can find instructions about adding new records here.
Over the coming months we hope to watch this layer of user-generated information grow and become a valuable resource for us all. Watch this space with us.
What we've achieved so far
We have been collecting and reviewing data as part of our process of reporting to our funders, the Heritage Lottery Fund. This has given us the opportunity to take stock and crunch a few numbers on what's been achieved in the project so far.
Here's what we have found:
Know Your Place area quadrupled in size with the addition of South Gloucestershire to the map
Our new project blog has welcomed 372 visitors in its first month
We have introduced 846 people to Know Your Place at 26 different talks and events
Our partners have generously contributed a total of £27,020 match-funding support
We have digitised 1506 historic maps in archives around the region
We have recruited and trained 69 volunteers, who between them have clocked up an impressive 575 hours of work to date
But there's no time to rest on our laurels. We are now working to refine our programme of work and events for the rest of 2016, so look out for our next update.
In the meantime, thank you to all of our supporters for the help you have given us so far.
Call out for more Volunteers in March
During March we will be recruiting volunteers to help prepare the digital images of historic maps for our website. Volunteers will add geographical co-ordinates to the map images (georeferencing) working from home using our special software. A detailed role description can be found here.
We have lined up eight training workshops at venues in Bath, Chippenham, Gloucester, Taunton and Yate during March. Training lasts for 3 hours and is designed to set up all new volunteers with the skills and confidence you need.
This is an exciting opportunity for anyone interested in maps, but hurry, as we hope to recruit and train everyone for this task by the end of March!
So if you would like to get involved, please drop us an email to kypwestofengland@southglos.gov.uk to find out more.